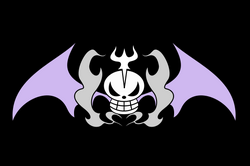 Moria's Pirate Crew is a pirate crew formerly headed by Moria Gecko, before they were, sans Moria himeself, destroyed by one of the Four Emperors Kaido.
Thriller Bark Arc
Edit
Pirate Flag
Edit
Crew Members
Edit
Crew Strength
Edit
Other Information
Edit
Template:Thriller Bark Navibox Template:Pirate Crews Navibox
Ad blocker interference detected!
Wikia is a free-to-use site that makes money from advertising. We have a modified experience for viewers using ad blockers

Wikia is not accessible if you've made further modifications. Remove the custom ad blocker rule(s) and the page will load as expected.