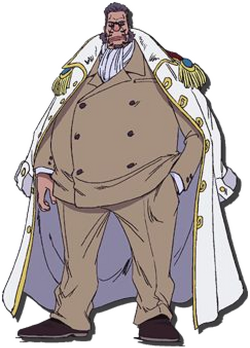 Moore (ムーア, Mūa) is an anime-only Navy captain, appearing in the Goat Island Arc.
Appearance
Edit
Voice Actor: Bob Magruder (English), Ryōichi Tanaka (Japanese)
Moore is a round person with a long face, a puffy red nose, whiskers and a goatee. His straightly combed hair and sideburns are dark gray. Like all high-ranking officers, he wears a double-breasted suit with a Marine jacket draped over his shoulders like a cape. His suit is a tan color, and underneath he wears a white tie.
Personality
Edit
He prefers to act immediately, without any great thinking. He seems to be a true believer in justice; however, he seems to lean more towards "moral justice".
Relationships
Edit
Friends/Allies
Edit
Abilities and Powers
Edit
Major Battles
Edit
Filler Battles
Edit
Anime and Manga Differences
Edit
Trivia & References
Edit
Ad blocker interference detected!
Wikia is a free-to-use site that makes money from advertising. We have a modified experience for viewers using ad blockers

Wikia is not accessible if you've made further modifications. Remove the custom ad blocker rule(s) and the page will load as expected.