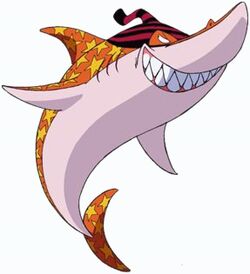 Monda (モンダ, Monda) is a Star Shark and is one of the pet animals of the Foxy Pirates.
Appearance
Edit
Voice Actor: John Burgmeier (English), Masaya Takatsuka (Japanese)
Monda is an orange shark with yellow stars on him in the upper side of his body. He wears a red mask-like hood with black stripes. In the manga his underbelly is dark orange. His birthday is April 3rd.
Personality
Edit
He is devious and sneaky. He is also good friend with Capote assisted him together with Porche in the first race of the Davy Back Fight, the Donut Race.
Relationships
Edit
Friends/Allies
Edit
Abilities and Powers
Edit
He is a powerful swimmer by nature. He is able to "combine" with Capote by putting the Fishman's legs in his mouth to swim even faster. This is called the Two-fish Engine.
Major Battles
Edit
Filler Battles
Edit
Trivia & References
Edit
Ad blocker interference detected!
Wikia is a free-to-use site that makes money from advertising. We have a modified experience for viewers using ad blockers

Wikia is not accessible if you've made further modifications. Remove the custom ad blocker rule(s) and the page will load as expected.