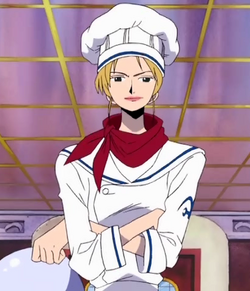 Jessica (ジェシカ, Jieshika) is the head chef at G8 Navy Base in the anime-only G-8 Arc who gets angry whenever the other chefs are off task. She is also Vice Admiral Jonathan's wife.
Appearance
Edit
Voice Actor: Jennifer Seman (English), Kazue Ikura (Japanese)
Jessica is a young, beautiful, tall woman, with large breasts, blond hair, and dark green eyes. As a Head Chef that works in a Navy base, she wears typical Navy cook kitchen outfit with a cook hat.
Personality
Edit
She was kind towards Sanji and Luffy, although she did not know that they were in fact Straw Hat Pirates. As a Head Chef, she earned the respect of the other cooks that work with her. She gets angry at other cooks if she sees them slacking off or wasting time. She is bossy and loves her job and her husband.
Relationships
Edit
Friends/Allies
Edit
Abilities and Powers
Edit
Major Battles
Edit
Filler Battles
Edit
Trivia & References
Edit
Ad blocker interference detected!
Wikia is a free-to-use site that makes money from advertising. We have a modified experience for viewers using ad blockers

Wikia is not accessible if you've made further modifications. Remove the custom ad blocker rule(s) and the page will load as expected.