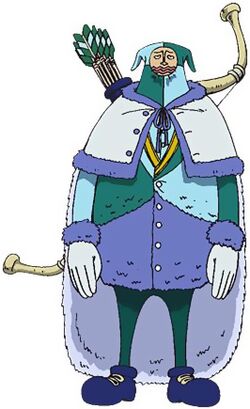 Chess (チェス, Chesu) is a former minister of defense serving under Wapol. After the attack of Blackbeard, he became a pirate together with Kuromarimo still under Wapol.
Appearance
Edit
Voice Actor: Kyle C. Jones (English), Yūsuke Numata (Japanese)
Chess is a man who is a bit taller than average. He has wavy lips and a sad expression. He wears a checkered jester-like green-blue costume with purple lining at the end of the sleeves, a white winter cape with purple lining, that he ties against his chest, and grey buttons, with a light brown bow and a bag of arrows on his back. He has dark green pants, and blue shoes with white buckles. Six years ago, he wore a pointy green-blue hood on his head.
Personality
Edit
As head of staff, Chess writes down every new law Wapol makes, along with everything he eats. Chess is quite cocky, often stating that he has figured out his foe's weakness. He also will not hesitate to hurt innocent bystanders. Just like Kuromarimo, he seems to be very loyal and respectful towards Wapol.
Relationships
Edit
Friends/Allies
Edit
Abilities and Powers
Edit
Chess is a skilled archer that can even aim and fire multiple arrows at the same time.
Checkmate (チェックメート, Chekkumēto): Chess shoots a flaming arrow at his opponent. This attack makes a great combo attack with Kuromarimo's Marimo's Static Cling Attack because the Afros he attaches make easy targets and increase the damage of his attack.
Chess became the head of staff after Wapol became king. He approved everything that Wapol did including eliminating all of the doctors on Drum Island, except the Isshi-20.
One day, Blackbeard arrived on Drum Island and begun the destruction of the island. Chess, along with Kuromarimo, followed Wapol who cowardly escaped Drum Island. For nearly a year in exile, he spent his life as a pirate.
Major Battles
Edit
Trivia & References
Edit
Ad blocker interference detected!
Wikia is a free-to-use site that makes money from advertising. We have a modified experience for viewers using ad blockers

Wikia is not accessible if you've made further modifications. Remove the custom ad blocker rule(s) and the page will load as expected.